Highly Profitable Home Care Agency For Sale
$471,000 Owner's Cash Flow
Suffolk County, Massachusetts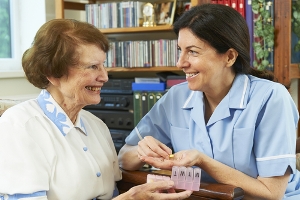 Listing Number: 1650
Financial Information
Asking Price: $1,495,000
(does not includes two weeks of working capital needs, estimated at $200K)
Gross Revenues: $2,245,047
Owner's Cash Flow: $471,073
Business Description
One of the Boston area's leading private home care agencies is available for sale! This company offers highly personalized boutique services, including long-term care, short-term rehabilitation, and post-operative care and support to primarily private pay individuals in and around the Boston area. At the core of its operations are carefully selected and screened personnel, including RNs, LPNs, CNAs, and therapists. The business has been highly successful year over year, consistently grossing over $2,000,000 in sales.
A recent study by AARP found that nine out of 10 older Americans prefer to live in their homes as long as possible. As a result, this industry has become one of the fastest-growing healthcare industries in the United States, with an estimated $94.2 billion in revenues in 2019.
Growth & Expansion Opportunities
There's ample room for the business to grow, especially with an anticipated increase in demand for in-home care for seniors seeking to avoid nursing residences considering the COVID-19 outbreaks in these settings. While the company slowed down slightly in March and April 2020, they have since rebounded back to pre-shutdown revenue levels. They also see demand increasing with the delay of many seniors going into nursing homes and assisted living facilities.
Support & Training: The sellers will provide necessary training and support to ensure a smooth transition.
Reason Selling: To concentrate on other business ventures
Contact Information
Sarah Grossman
info@mabusinessbrokers.com